VGSI-Zeit Elevator and Ho Chi Minh City University of Technology cooperated in training advanced specialized human resources and researching & developing smart elevator technology.
The signing event between VGSI-Zeit Elevator (a subsidiary of GS E&C global conglomerate from Korea, owner of the Zeit elevator brand) and Ho Chi Minh City University of Technology has just taken place at the Zeit Elevator Factory – Nhon Trach 6 Industrial Park (Dong Nai) on December 28.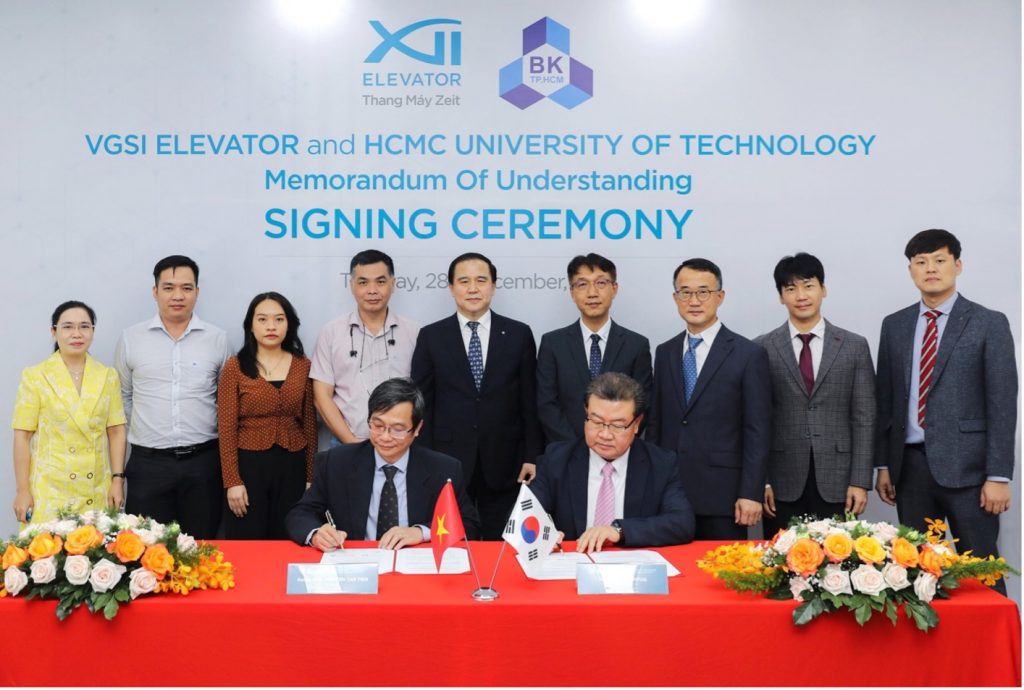 According to Mr. Ryoo Jae Hyug – General Director of VGSI-Zeit Elevator, the elevator market in Vietnam has a lot of growth potential due to the dynamic economy, rapid urbanization, many real estate projects have been and are being formed. The appearance of high-rise buildings, modern skyscrapers, apartment projects, commercial centers, high-class townhouses… promotes the need to equip elevators, increase convenience for clients/user.
"We can feel the great attraction when we see a series of world-famous multinational elevator brands and many domestic enterprises participating in this potential market," commented Mr. Ryoo.
The Zeit elevator representative also acknowledged that this poses many challenges for Enterprises in the industry. Specifically, enterprises need to develop smart technology products, multi-utilities, high aesthetics, suitable for a variety of urban spaces, accompanied by competitive prices, after-sales and warranty processes… really fast and convenient.
Grasping the market trend, Korean Group GS E&C built an elevator manufacturing plant with Zeit brand elevator in Nhon Trach 6 Industrial Park, Dong Nai province. With the criterion "Korean Elevators Built Up In Vietnam", Zeit elevator focuses on the high-end segment, meeting international standards. The brand also promotes research and development of smart technology, operating in accordance with the climate and heat and humidity in Vietnam.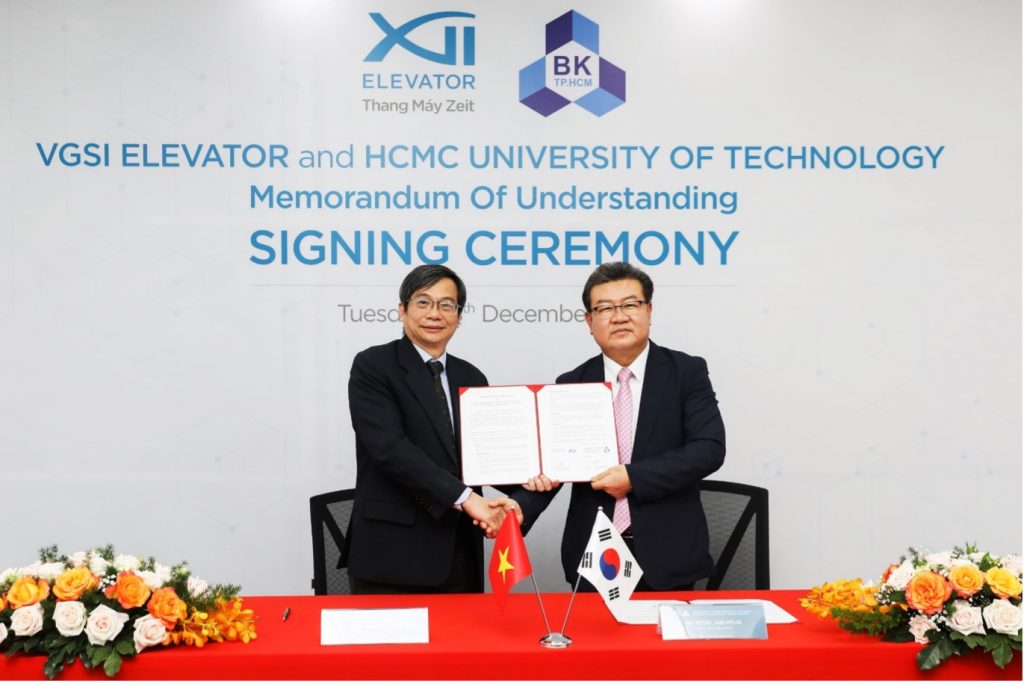 Assoc. Dr. Nguyen Tan Tien – Director of the Key Laboratory of Numerical Control and System Engineering under Ho Chi Minh City University of Technology highly appreciated the cooperation with Zeit Elevator. Accordingly, both sides will participate in the field of R&D, comprehensive research on elevator technology, focus on solving practical problems, and high-tech research to meet future trends.
"First of all, from the beginning of 2022, we will work with Zeit elevators to continue researching and developing AI technology applications to increase convenience, security and safety for users," Assoc. Dr. Nguyen Tan Tien shared.
Besides, Prof. Dr. Nguyen Tan Tien believes that this is a good basis for engineering students to access modern technology of Korean corporations, practice associated with reality, improve qualifications, train specialized human resources for the elevator industry, linking relationship between enterprises and university, offers career opportunities.
For his opinion, Mr. Ryoo assessed that the cooperation agreement will contribute to the development of high technology for Vietnam's elevator industry. This will also help Zeit Elevator improve the position of an international elevator brand that is designed and manufactured on high-tech lines in Vietnam for export to other countries around the world.
"In the future, we will take the lead in creating jobs and developing smart technology applied in elevators for Vietnamese engineers, and this cooperation will pave the way for that goal," said Mr. Ryoo. emphasize.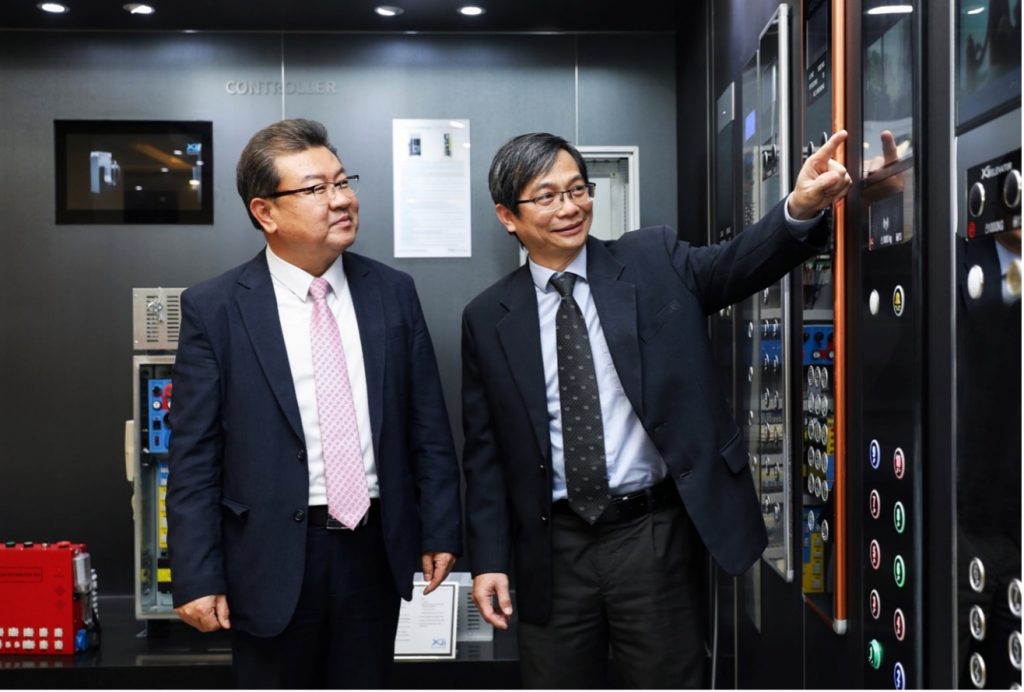 In 2021, despite the difficult situation due to the impact of the epidemic, Zeit Elevator still expands the market, achieving many large projects, typically 6-star luxury hotel projects in Ha Long and Hanoi, offers 42-stop elevator with speeds up to 4m/s.
Zeit elevators include many product lines such as passenger elevators, freight elevators, escalators, and moving walkways. The elevator is equipped with a real-time remote monitoring system, which can identify and perform repairs when errors occur quickly, even before receiving notifications from users. The preventive maintenance system helps to assess and monitor the life of components, thereby making a timely repair and replacement plan, helping the elevator to operate stably.
To ensure safety and quality, Zeit elevator built a test tower of elevators with a height of up to 100m in the factory premises of Nhon Trach 6 Industrial Park. This is the place where high-speed elevators are tested up to. 6m/s and large load, testing safety devices, smoothness in operation… Throughout the process, there is the participation of a team of Korean experts, monitoring and ensuring the process is in accordance with standards